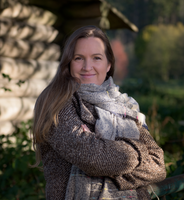 Artist Statement
For me, creating art is a way of understanding the natural world. I am a visual, spiritual and physical explorer of nature and humanity. I spend a great deal of time in the outdoors where I encounter rugged landscapes and wild animals. In these places I am deeply moved and inspired to create. I keep visual records of nearly everywhere I visit, in the form of small watercolor sketches or photographs. I use these records later to create expressive oil paintings in the studio.
Artist Biography
Melissa's artistic journey began when she was very young. She remembers a curiosity for the images found in her grandfather's library. She would spend hours studying and drawing images of birds, mammals, reptiles and even Greek gods. She had a curiosity for almost everything. Living on acreage close to the ocean meant endless hours playing in the forest or along the beaches. This curiosity was nourished through her large and eccentric family. Her family members were frontiersmen, fishermen and more notably, storytellers. These early years served as a catalyst for Melissa's desire to tell a different story, one through images.
Melissa left home at a very young age, 15. Wherever she went she managed to find work in the outdoors, with animals or on farms. Her love for wildlife and nature endured wherever she found herself. She graduated high school with an artist award and was sponsored for art school. Melissa found herself at a crossroads after completing two years of intensive art studies. It was expensive and distracting living in the lower mainland, and having horses meant bills larger than she could afford. So, at 21 Melissa moved north and found work in the coal and oil mines. Melissa lived in very remote areas where she encountered wild animals, rugged landscapes and different ways of life. Her love for the untamed Canada intensified and she soon realized she couldn't continue mining, she wanted to do something more positive in life. She decided to study something different: the human condition. Melissa went back to school at 26 and completed a degree in Psychology at UBC. Her interest in this subject stemmed in part from her own mental health issues, but also because of her older brother. Brent has a severe case of Tourette's syndrome, the symptoms of this syndrome left him isolated, in emotional and physical pain. Learning about how genetics, environment and biology interact to produce differing symptoms has given Melissa a different perspective on life and in the way she understands people. It has also brought her closer to her brother.
All these experiences have been a catalyst for the works she creates. Her work focuses on a range of subjects, and uses a variety of both bought and found materials. Her work is inspired by Canadian landmarks and animals that symbolize traits and knowledge. Melissa also focuses on the interaction between humanity and the living earth. Some of her works are meant to make the viewer wonder about their own relationship to waterways, nature and the impact of our consumption. Her focus is to portray nature's resilience to harsh and changing environments while also discussing ways nature can provide insight.